SPONSORSHIPS // stands
October 12 and 13, 2023
Santo Domingo del Cerro, La Antigua Guatemala, Guatemala
REASONS TO BE IN

EXPO

CPAL IV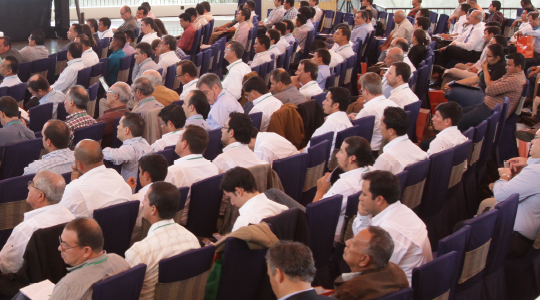 1

Become acquainted

with the sector, its challenges, opportunities and needs to provide better services and products

2

Get national and international contacts

of potential clients and create new business opportunities
3

Cultivate the relationship

with your current customers

4

Learn about new trends

and innovations within the palm oil agribusiness

5

Strengthen and position

your brand to stand out from your competition.

Expo CPAL IV is the ideal platform to promote your brand and showcase input and service alternatives available in the market for optimal palm oil agro-industry activities.
This commercial space offers three categories of sponsorship: gold, silver and bronze. Companies interested in promoting their brand can choose the most suitable option for their budget.
Sign up and be part of this important event that will give you the opportunity to cultivate business relationships with oil palm producers in the Latin American region.
Benefits
Gold
Silver
Bronze

Stand size: 3 x 2 mts., and 2.47 mts

White background panelling.

1
1
1

Electrical outlet for electrical connections.

1
1
1

Capacity for two people (includes hostesses).

1
1
1

Badge and meals

For persons manning the stand (See requirements and guidelines).

YES
YES
YES

Networking

Opportunity to establish and strengthen your relationship with decision makers and representatives of the palm oil agroindustry that will allow you to expand your network of contacts.

YES
YES
YES
BRAND PRESENCE IN
Gold
Silver
Bronze

Logo on the event website.

YES
YES

Logo in digital advertisement for GREPALMA communication channels.

YES

Logo in advertisement in print media.

YES

Logo on mupis located at strategic points within Santo Domingo del Cerro.

YES

Logo on the back cover of the notebook that GREPALMA will award to each of the participants.

YES

Logo and information of the company, products and contact information in memory of the event that will be provided to each of the participants.

YES
YES
YES

The participating company will have the right to place informative material inside the welcome bag that will be delivered to each of the participants on the first day of the congress.

YES

Publication of the exhibitor's announcement promoting his stand number at the CPAL Expo. The announcement will be published on GREPALMA's social networks. (Art is delivered by the exhibitor).

YES
YES

Advertising blankets with a metal base. Measurements: 1.5 x 2.0 meters

1

First 10 to confirm sponsorship: advertising blankets with a metal base. Measurements: 1.5 x 2.0 meters

1

First 3 to confirm sponsorship: billboard. Measurements: 4.5 x 2.1 meters

1

Banners with sleeve and weight below, can be strip or PVC. Measurements: 0.60 x 0.90 meters

1

First 3 to confirm sponsorship: advertising banner. Measurements: 1.5 x 2.4 meters

1

First 3 to confirm sponsorship: blanket for triangular structures. Measurements: 2.65 x 3.75 x 3.75 meters

1

First 4 to confirm sponsorship: blanket for metal base. Measurements: 1.09 x 1.09 meters

1
REQUIREMENTS FOR PARTICIPATING COMPANIES
Requirements for companies participating in
CPAL Expo
1

Stand space will be reserved as registration forms and payment are received, according to the category chosen by the participating company. Registration can be done at

www.grepalma.org

from

Monday, May 15 to Friday, August 18, 2023.

The deadline to pay the investment amount is

Friday, September 8, 2023.

2

Exhibitor must provide company information, contact information (telephone, name, e-mail and webpage), list of products and/or services and logo in high-resolution JPG, PNG or Illustrator format, no later than Thursday, September 14, 2023. All information must be of not more than 85 words. If the company fails to submit information in time, we will be forced to leave it out of the report of the event.

3

In the space hired, the participating company can place furniture and equipment that fits in the designated area to showcase its products.

4

A company that acquires the option of including information material (flyers, brochures, other) in the welcome bag must deliver the material on Monday, October 9, 2023, in Santo Domingo del Cerro from 10:00 am. to 12:00 noon.

5

GREPALMA only provides space to place advertisement material (banners, billboards, banners for triangular structures and small banners) as outlined in the gold and silver category options. Printed banners in the sizes listed in the options are provided by the exhibitor.